HOOPLA IS . . .
Hoopla designs and manufactures vibrant, all leather bags. Our collection includes totes, crossbody bags, backpacks and more! We're passionate about quality, colour and affordability. We're sure you'll find something you like in our collection.

Introducing the Crossbody Bum Bag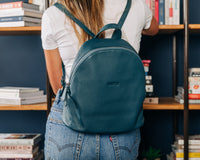 Bags for all occasions
The Hoopla range is growing and we're so excited to share it with you. From totes, to backpacks, to crossbody bags, to shoulder bags - we'll have the perfect bag for any occasion. All leather, all colour and all style.
Check out the range
Testimonials
Hoopla is my go-to site for gifts for special people. The bags are practical and the colours are glorious. There is one for every personality. I own two myself. Vicki and her team are approachable and very helpful. Highly recommended.

Siobhan, Vic, Aus
I recommend Hoopla Bags to all my friends.  They are fantastic quality and made of the most gorgeous leather I've come across.

They are a fraction of the price you would pay for equivalent at a big brand.  If you are after a quality, classic bag that you will love and use for many, many years, try HOOPLA.  You won't be disappointed!!

Plus, they offer excellent, personal customer service.'  

Helen, WA, Aus
Hoopla bags are addictive! The designs are timeless, the colours are impossible to resist and they are made to last. And such a great price for quality leather! And best of all, it's a family business that really cares about the product and their customers. Love Hoopla!

Meredith, Vic, Aus
I love my Hoopla Bags! They are so stylish, well made and gorgeous! I carry mine every day! (I have many colors in both the larger and smaller sizes.) The larger tote is big enough to fit everything I need for my work day, including my laptop. The smaller tote is my day-to-day go-to bag. I get so many compliments. A great way to spoil yourself without breaking the bank. Love, love, love!

Shanna Perry
I ordered the large green Hoopla bag for delivery to Canada 🇨🇦 in December and it arrived in 12 days amid the Christmas rush! It is made from beautifully tanned leather and the workmanship is excellent.

Susan Rinn
Hoopla bags was much better than I was expecting, the portrait small tote is gorgeous and fits so much! Totally in love with it!

Roxanne Gutierrez
I love my Hoopla bags! Great quality and beautiful colours. I have the yellow and white totes and 2 clutches. I use the small clutch inside the tote to keep smaller things like my headphones, tissues, lip balm etc on a daily basis and then use them for evenings out too.

Catherine Graham
I love my Hoopla bags! Perfect for travelling and super durable - I use them as my school bag too. Love the colours. My latest addition - olive clutch - is cute as a button!

Audrey Hunter